We just wanted to provide the lay of the land for those of you that haven't been here
before. Below is a an aerial view of the Fairgrounds itself, so everyone can get a
general idea of where to go. Only vendors and workers will be allowed inside the
grounds on Thursday, for everyone else the gates open on Fri. @ 8 am. We will have
all self-contained RV's and campers with generators set up down by the river, where
there is still easy access to the grounds. Johnson City is really easy to get to and we
also have links to maps below to help you out. I do welcome
questions and feedback
,
so feel free to email me with anything I need to add or may have missed. Till then, ride
safe and see you there!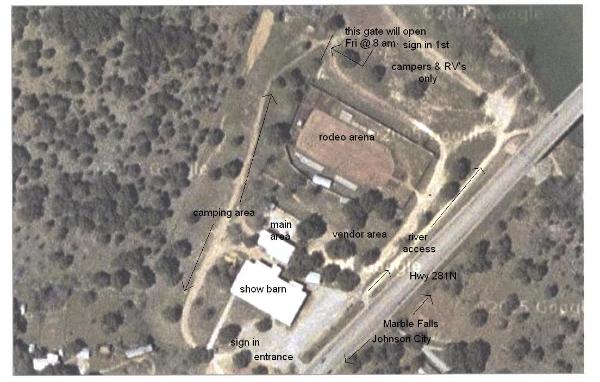 Thanks to the Blanco County Fair and Rodeo Association we now have an additional 7 acres
of camping available for our event. This is just to the left of the camping area marked on the
map. They all worked very hard to purchase and clear the land with the help of volunteers. As
always, we owe them a huge THANKS as they have always done so much to welcome us and
help make our event become what it is today!

JOHNSON CITY LOCAL MAP This is a map of the city itself and will help locate the
Blanco County Fairgrounds.

INTERACTIVE MAP OF THE BIGGER PICTURE For those of you who haven't
experienced Google maps, it's pretty cool! You can look and interact with a "regular" map or
even click on "satellite" and zoom in and see what the Fairgrounds looks like from an aerial view!
Check it out..it's pretty cool stuff!


MAP